Air Playit - Remote Stream, Convert, Download Video to iPhone iPad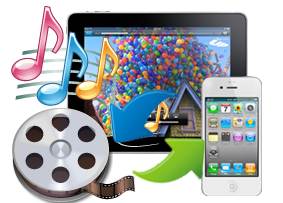 Digiarty Software, as a professional digital media software developer, released iPhone iPad app – Air Playit lately. Soon after its release, it has ranked as No.2 in New & Noteworthy under Entertainment category as it offers a host of rich feature, including video audio streaming, TV out option, Built-in HTTP server, permission system, etc among which remote video conversion capability stands out.
The idea behind Air Playit is simple. In the age of cloud computing, setting up a personal cloud to serve all media fits in with the needs of the society. This is where Air Playit comes into being. As a personal video & audio cloud, Air Playit transforms home computer into a media center for all of the video and music, offering remote control on them over WiFi, 3G or 4G network. This rescues iPhone iPad users from limited capacity and file compatibility.
Air Playit works in two parts. A piece of server software sits on PC or Mac for sharing the media files from local hard drive or iTunes playlist. The other component is an iPhone/iPod Touch app that connects to the server and lets users to browse and play video. It evolves the tradition notion of watching video on desktop computer at one physical location. The commonly used iPhone iPad iPod are now used to control the media files from a remote location via Air Playit.
Air Playit Server and Client App can be free download at: http://www.airplayit.com/
With the real-time video transcoding, it fills a gap for Apple addicts by live converting formats that can't be played on iPhone to an iOS friendly format over WiFi or Internet, while without the risk of out of space. Since the host computer, namely the computer where Air Playit server located is converting the video format in a continuous stream of data and the video is played as it arrives.
All the computers from local WiFi network can be automatically discovered by Bonjour service. To stream video while away from local network, remote WiFi, 3G and 4G network are provided as additional option. It needs users to fill all queried information such as IP address, service port and PIN. Then data is accessible only on the Personal Cloud by those who have the appropriate permissions to access it. In that case, all your family and friends who are miles away from where you live can effortlessly access movies, music stored on home computer in the manner of adding remote server.
For the tutorial on how to use Air Playit to remote streaming video, please visit: http://www.airplayit.com/blog/tutorials/using-air-playit-for-remote-video-streaming.htm
About Digiarty Software, Inc
Digiarty Software, Inc. is a professional digital media developer specialized in a range of video streaming applications, DVD & video related solutions and iPhone game development. More information about Air Playit can be found at http://www.airplayit.com or contact us at: contact@airplayit.com