iPhone Remote Access Home Video Library
If you are a video collecting enthusiast, you may have stored gigabytes or even terabytes of video files on your hard drive. Imaging you are out, getting ready for a flight abroad, and want to watch the movie videos on hard drive on the air, how to remotely access it and watch the videos on other place?
Hardware streamers like the WD TV Live and Xbox can funnel video to your living room, but getting remote access to the home video library from computer to mobile devices like iPhone or iPod Touch is a different story. The advanced option for tech-smarter would rely on streaming video library to iPhone through remote access via Wifi, 3G or 4G network.
Here comes the next problems: Is there any free iPhone app that could fulfill the remote access task of streaming home video library to iPhone? Fortunately, Air Playit can fit the bill. And we will show you how to effortless use this free iPhone app to remotely access your home video library either on remote WiFi or over 3G.
How to Add Remote Server to Get Remote Access Working?
The Air Playit works in two parts. A piece of server software sits on your desktop computer (both Windows and Mac OS are supported). The other component is an iPhone/iPod/iPad app that connects to the server and lets you browse and play video.
After free downloading Air Playit server (Windows or Mac OS ), you are able to set the server on your computer.
Step one: The port and IP address On the main interface can be used to specify the server address when the client app can't find the Bonjour connection information.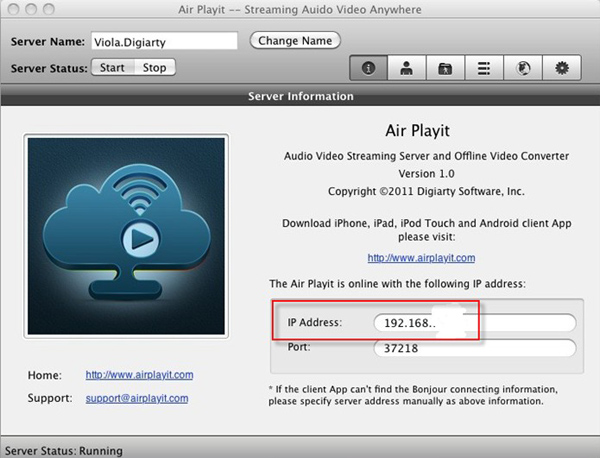 Step Two: Select directories on the video server that contain your videos or import video from your iTunes playlist to share.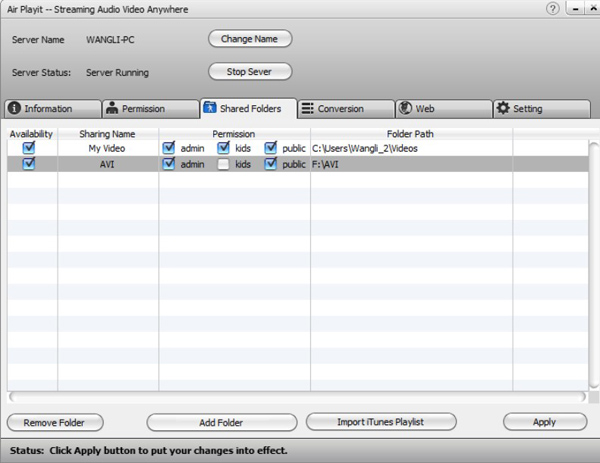 Step Three: With Air Playit you can access your video anywhere on the internet. However in order to do that certain conditions must be met:
* Your router must have a public IP address and must be accessible from internet. This is true for most of home internet connections.
* Your router must support UPnP or NAT-PMP protocols so that Air Playit Server can setup the appropriate port forwarding. If your router supports none from these you will have to configure the port forwarding manually.
Next, On your iPhone, download and install the Air Playit app.
1) Log in to your router settings.
2) Add new port forwarding entry - port 37218, protocol TCP. The forwarding IP address needs to be IP address of your computer.
Note: If you are still unable to connect to the server, then close the firewall for a try.
After that, your Air Playit is configured for remote access. you are allowed to remotely access your home video library via 3G/4G anytime and anywhere. With this free iPhone app, you may easily stream any video to your iPhone, air download video to your iPhone, watch any video freely like a breeze!
Recommended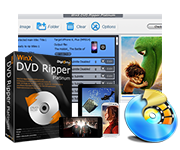 WinX DVD Ripper Platinum can rip DVD to digital formats like MP4, H.264, AVI, WMV, MOV, backup DVD to a single MPEG2 file with no video/audio qulity sacrifice on Windows (10) PC/Mac. So that you can stream DVD movie to iPhone/iPad/TV with Air Playit perfectly.
Related Article
Want to watch TS TS videos on iPhone iPad without conversion and iTunes to sync? Streaming M2TS TS to iPhone iPad via WiFI, 3G and 4G network, you may remotely enjoy M2TS TS video on your home computer.
Just imagine, all of your videos are stored on your Mac or PC at home, and you access them via an app on your iPhone iPad. And instantly the capacity of your iPhone iPad becomes infinite. How to realize it? Here is your answer.
It brings a new introduction of how to use free iPhone App to remote access home video library. As a 100% free App, Air Playit is able to stream video library to iPhone via wifi, 3G or 4G wireless network to fulfill the remote access task.