Air Playit Upgraded to Support Streaming DRM Video to iPhone iPad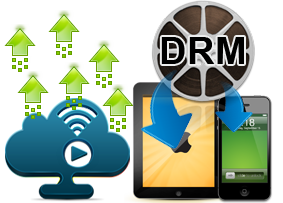 Soon after releasing the iPad edition of Air Playit, the developer, Digiarty Software Inc. upgraded this free video/audio streaming software to V1.5.0. Accordingly, considerable improvements, optimizations and additions in technology and function are merged in this upgrade. The bright spot of this "makeover" is the introduction of a new way to play iOS compatible videos so it can stream DRM video to iPhone, iPad and iPod touch wirelessly.
Air Playit is a free yet professional video/music streaming app for streaming audio/video files in 320 different formats to mobile devices. After this upgrade, this video software is enabled to play any media file in conformity with Apple iOS by direct streaming video to iOS instead of converting to other format. By streaming iTunes DRM videos anywhere, Air Playit lets users watch the DRM-protected videos downloaded from iTunes Store on iPhone, iPad, iTouch or Android (coming soon), etc. in real time without taking space.
Air Playit consists of a Streaming Server and an App Client. This free audio/video streaming software is compatible with both Windows and Mac computers. With Air Playit, users can real-time play any video/audio locally and remotely via 3G, 4G or WiFi network without sync and conversion. Additionally designed with offline conversion mode, it also supports playing back DRM video on iOS device subsequently in the absence of network.
Air Playit Server and Client App can be free download at: http://www.airplayit.com/
In addition to streaming DRM video to iPhone/iPad, Air Playit is subjected to many other technological modifications and functional additions in this major upgrade:
New Functions:
* Let user choose UI language
* Provide force conversion on-the-fly; let user set On/Off live video conversion
* Allow user to choose whether to cache the music file
* Support lossless music formats such as FLAC
New changes:
* Start playing music without completing the download by means of streaming
* Improve the way of adjusting audio bitrate
* Optimize IP acquisition algorithm
Besides, a few bugs in previous versions have been fixed. After continuous upgrade and improvement, Air Playit aims to be a more powerful and practical audio video streaming software to confront more challenge and satisfy more users.
Device Requirements:
* iPhone, iPod touch, and iPad
* Requires iOS 4.0.1 or later
* 2.8 MB
Pricing and Availability:
Air Playit 1.5 is free for both iPhone and iPad and available worldwide exclusively through the App Store in the Entertainment category.
About Digiarty Software, Inc
Digiarty Software, Inc. is a professional digital media developer specialized in a range of video streaming applications, DVD & video related solutions and iPhone game development. More information about Air Playit can be found at http://www.airplayit.com or contact us at: contact@airplayit.com