Streaming Video from PC to iPhone iPad - Perfectly Put Video to iPhone
As a video fancier, you must have lots of videos stored in your PC, such as favorite movies, comedy videos, hot MVs, etc. It will be amazing to watch those videos on iPhone iPad at free time. But the formats vary from videos. iPhone iPad can only support H.264 and MPEG-4 videos. To play videos with incompatible formats on these devices, many people will turn to video converter to transfer video to iPhone iPad compatible video formats, then sync with iTunes.
In fact, "video converter + sync" solves the video playback on iPhone iPad well, but it's not the best for playing incompatible videos on iDevice. Because it may take long time to wait for the conversion result, and be inconvenient to connect iDevice and PC with USB for syncing. Now streaming videos from PC to iPhone iPad with Air Playit has been considered as the best method to watch videos on iDevices by pioneers. Air Playit helps remotely and instantly play all videos from your PC on iDevice via WiFi, 3G, 4G networks without long time conversion and USB wire.
How Does Air Playit Work to Stream Video from PC to iPhone iPad?
Air Playit is composed by Air Playit Server and App Client. Through Air Playit Server, you can set the "Shared Folder" to share videos on your computer. By App Client, you can remotely control and watch videos on iPhone iPad. When meeting the incompatible video formats, Air Playit server will automatically live convert and stream these videos to iPhone iPad compatible video formats.
Step-by-Step Guide on How to Stream Video from PC to iPhone iPad
The preparation before streaming video from PC to iPhone iPad is to download Air Playit Server and App Client. Here I will make an illustration of streaming video stored on PC to iPhone.
Step One: Install Air Playit Server on your PC and run it. The server will automatically discover and show the IP address of your computer in the "Information". You can add any video from your PC to "Shared Folder" so that you can stream these videos to iPhone.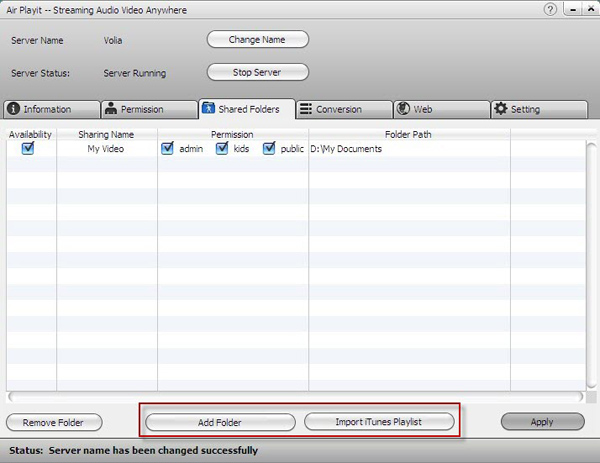 Step Two: Install & run App Client on iPhone, and add server. Client app can automatically discover the local server by Bonjour Server. If sometimes the client app can't find the Bonjour connection information, you need to specify the server address manually or close the firewall for a try.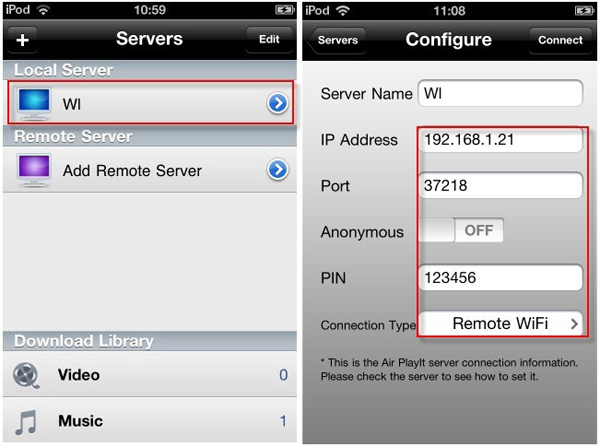 Step Three: Browse the folders under the server; click "Play" to watch videos on iPhone. Of course, you have successfully streamed videos from PC to iPhone.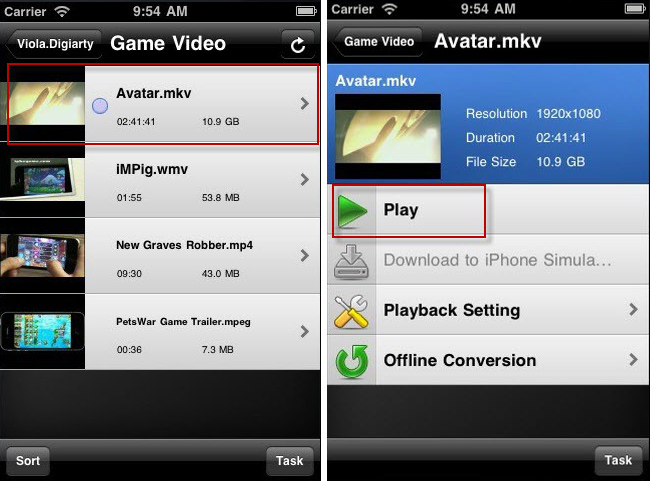 Thus, streaming and then playing video on iDevces is so easy a task to accomplish. If you are willing to stream your DVD movie into iPhone iPad, the following NO.1 copy protected DVD ripper can do you a great favor.
Recommended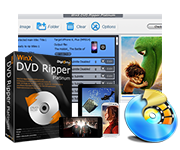 WinX DVD Ripper Platinum can rip DVD to digital formats like MP4, H.264, AVI, WMV, MOV etc., backup DVD to a single MPEG2 file with no video/udio qulity sacrifice on Windows (10) PC/Mac. So that you can stream DVD movie to iPhone/iPad/TV with Air Playit perfectly.
Related Article
Try to stream video to TV for watching on bigger screen? Air Playit is a free iPhone iPad video streaming app that supports TV Out for streaming almost all videos to TV via iPhone iPad.
Feel inconvenient to sync MP3 music from PC/Mac or iTunes Playlist to iPhone? Air Playit can help you put MP3 music to iPhone without sync by streaming MP3 music to iPhone iPad.
Want to stream 720p/1080p videos for watching HD videos on iPhone iPad instantly? Air Playit is capable of streaming all 720p/1080p videos, such as MKV, M2TS, AVCHD, MOD, EVO, etc, to iPhone iPad via WiFi, 3G, 4G network.