Access Movies from Your PC on Your iPad Wirelessly
There are a lot of movies in my computer and sometimes I'd like to sync them to my iPad for more convenient watching. However, movie sync always took some time that I didn't want. One day I tried Air Playit – a video and audio to iPad iPhone streaming app my friend recommended to me, and unexpectedly found it a really good helper as it allowed me to access my movies on my iPad wirelessly! What's more exciting, it is free!
Everything about the app can be found on its official website. Air Playit is a video/audio streaming app to stream video/audio from your PC or Mac to iOS mobile devices (iPad, iPhone, iPod, etc) and Android OS based phones via WiFi and 3G, 4G networks. With Air Playit, you don't need to sync video/audio to iOS devices via iTunes first, and can enjoy video/audio on your devices in real-time smoothly while streaming.
I visited the app's website first and downloaded the PC server and iPad app client, then installed the server on my computer, and client on my iPad respectively. (This app has two editions: Windows edition for Windows OS users, and Mac edition for Mac users.) Then I ran the server and input the video folder which I wanted to share to my iPad: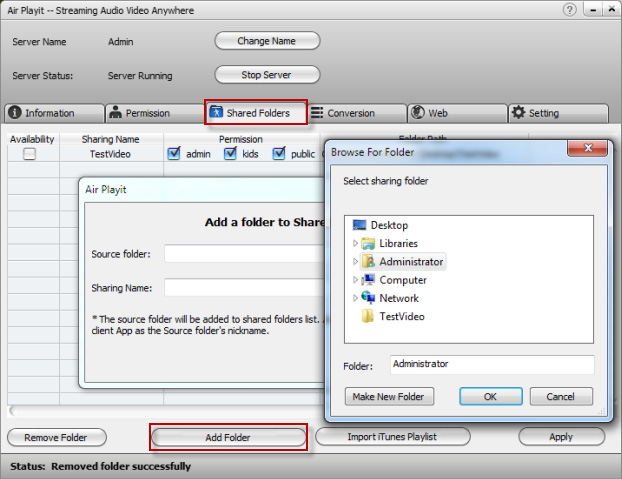 Then I ran the client on my iPad. The client automatically detected the server via WiFi. After connecting to the server, my client brought me to the videos and audios from the shared folder in Air Playit server: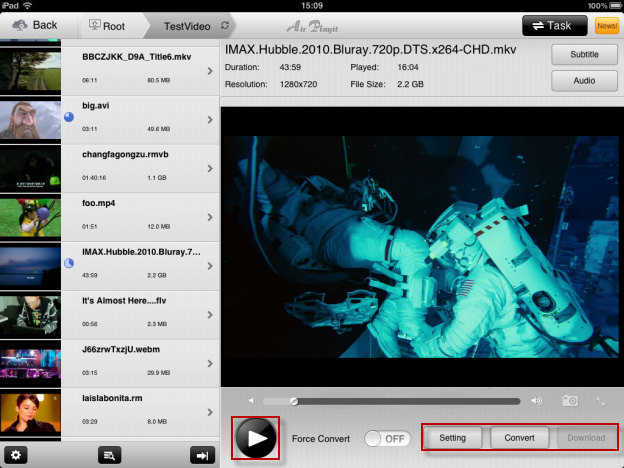 Air Playit started to stream my video after I selected my video and clicked the playback button. The video is just played in real-time and smoothly. After that I got back and checked my iPad video library and found the video streamed didn't exist there, and that was as what Air Playit website clarified: streaming video/audio doesn't take up any device storage. Really unbelievable! If you want to save the video in your iPad, you can first offline convert it to video of iPad supported format (not wasting your network bandwidth at all), and then download it to your iPad. Besides, you can do playback settings as you like.
Awesome, isn't it? I hadn't expected this free app would make it much more convenient for me to watch my PC videos directly on my iPad. If you are one who's looking for such a tool, too, don't miss the chance to take a try on free Air Playit. You may love it as I do.
Related Article
Want to watch TS TS videos on iPhone iPad without conversion and iTunes to sync? Streaming M2TS TS to iPhone iPad via WiFI, 3G and 4G network, you may remotely enjoy M2TS TS video on your home computer.
Just imagine, all of your videos are stored on your Mac or PC at home, and you access them via an app on your iPhone iPad. And instantly the capacity of your iPhone iPad becomes infinite. How to realize it? Here is your answer.
It brings a new introduction of how to use free iPhone App to remote access home video library. As a 100% free App, Air Playit is able to stream video library to iPhone via wifi, 3G or 4G wireless network to fulfill the remote access task.