Stream Movies and Music to Your iPad iPhone Wirelessly with Air Playit
If you are used to watching movies on your iPad, you may think it inconvenient to sync your movies with iTunes. And, you may have encountered problem that the movie you want to sync to your iPad is of format incompatible with iPad. Here I will introduce you a program named Air Playit that can stream almost all movies to iPad wirelessly, without syncing with iTunes. I tried this free awesome app and found it did what it said in its official website.
Air Playit is a video and audio streamer to stream movies and music from your PC or Mac to iPad iPhone iPod and Android OS based phones via WiFi and 3G, 4G networks. Streaming allows you to play the movies and music in real-time, and they won't take up any of your device space. This app supports 320+ different video and audio formats, so you are free to stream almost all kinds of movies and music.
It's an easy-to-use app and I will briefly show you how I operated it. (See detailed official instruction here)
First I downloaded the server and client, and installed them on my computer and iPad respectively. (This app has two editions: Windows OS edition and Mac edition. if you want to stream videos/audios from your Mac, you have to download server for Mac and install it.) Then I ran the server and added video folder I wanted to share to my iPad: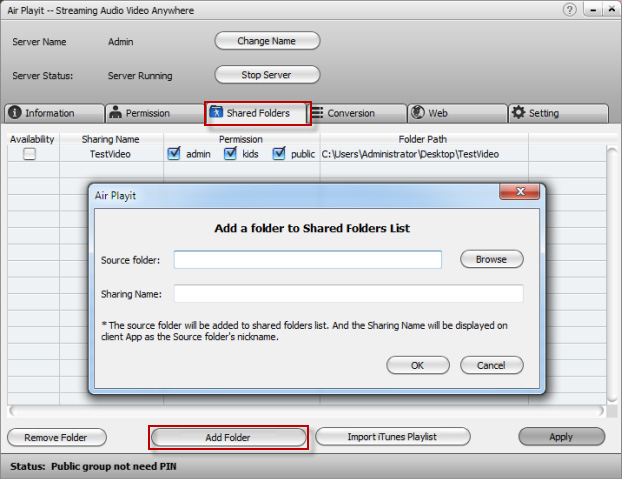 Air Playit allows you to add multi folders and select one among them. To remove the folder, click "Remove Folder" button. I ran the device client installed on my iPad, and then it detected the server automatically via Bonjour service. I selected my server, and the movies and music in my shared folders were shown: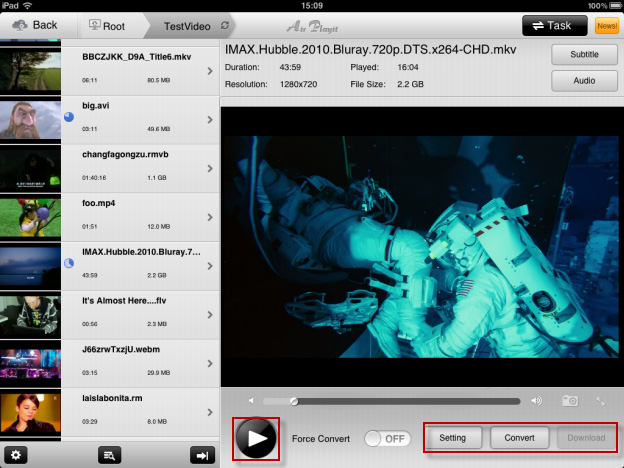 You can either play the video, or offline convert it first and then download it to your iPad. I played my movie and it ran smoothly and no error warning came up. That's very good! Air Playit also allows you to set playback parameters like video resolution, FPS, etc.
I didn't try this app on iPhone or other mobile device, but guess there is no much difference between the operations. If you are looking for a program of this kind, don't hesitate to give a try on Air Playit. The operation is not complicated; on the other hand, you don't need to pay for it as you have to do for other iPad iPhone video converting tools.
Related Article
Want to watch TS TS videos on iPhone iPad without conversion and iTunes to sync? Streaming M2TS TS to iPhone iPad via WiFI, 3G and 4G network, you may remotely enjoy M2TS TS video on your home computer.
Just imagine, all of your videos are stored on your Mac or PC at home, and you access them via an app on your iPhone iPad. And instantly the capacity of your iPhone iPad becomes infinite. How to realize it? Here is your answer.
It brings a new introduction of how to use free iPhone App to remote access home video library. As a 100% free App, Air Playit is able to stream video library to iPhone via wifi, 3G or 4G wireless network to fulfill the remote access task.