Streaming Video from Mac to iPhone iPad without Taking Up Space
There's no doubt that watching videos on iPhone iPad is one of the greatest pleasures of these Apple apparatuses. However, video files take a lot of space. Your video collection on your Mac is quite large and keeps growing. If you count your family videos, the collection becomes even larger. How do you put your videos from Mac into iPhone iPad with limited storage capacity? Have you ever wished you could watch all your video content from Mac on iPhone iPad?
Fortunately, Air Playit offers a very nice solution. It brings the coolest way to watch videos on iPhone iPad, streaming video from Mac to iPhone iPad without taking up space. So you never have to worry about the storage space not enough.
With Air Playit, you can have access to a much wider variety of videos than you could ever fit on a portable device. It can stream videos in almost any format to iPhone, iPad and iPod touch. Live conversion allows you to play videos without having to convert them upfront. You can start watching them almost immediately!
Step-by-Step Guide of Streaming Video from Mac to iPhone iPad
The Air Playit works in two parts. A piece of server software sits on your desktop computer (both Windows and Mac OS are supported). The other component is an iPhone/iPad/iPod app that connects to the server and lets you browse and play video. Here is an illustration of streaming video from Mac to iPhone.
Step One: Firstly, download & install Air Playit server to Mac, and Air Playit client on iPhone. Run the Air Playit server. Make sure the server is in Start condition. You can add your video by clicking "Add Folder" so that you can stream the video to your iPhone via Air Playit server.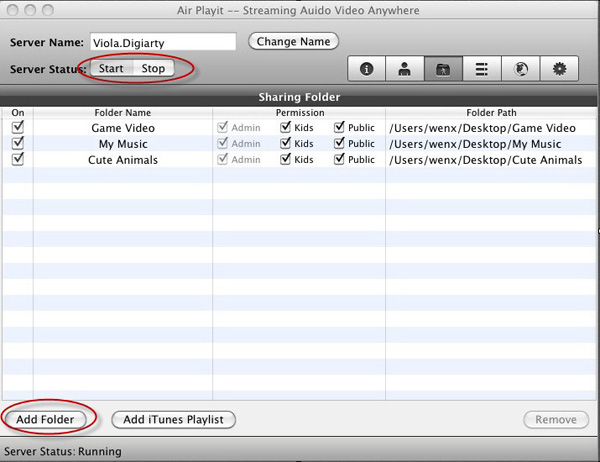 Step Two: Run App Client on iPhone, and add server. Client app can automatically discover the local network by Bonjour Server. If sometimes the client app can't find the Bonjour connection information, you need to specify the server address manually or close the firewall for a try.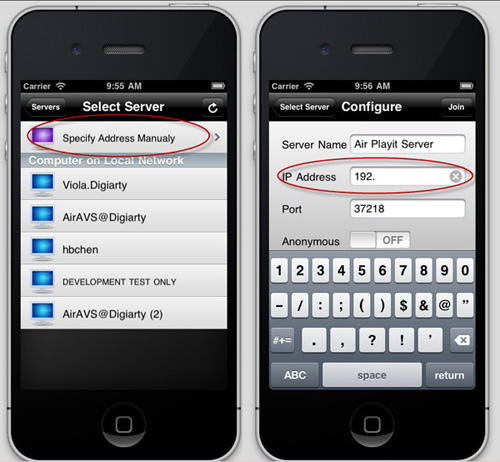 Step Three: Browse the folders under the server; click "Play" to watch videos on iPhone. Now you have successfully streamed videos from Mac to iPhone. Moreover, Air Playit can wirelessly stream almost all videos to iPhone iPad via WiFi and 3G/4G network without conversion and sync.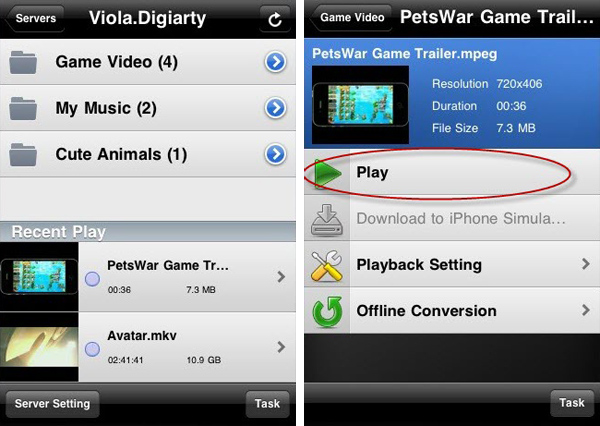 Recommended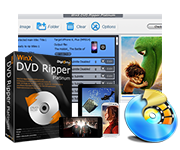 WinX DVD Ripper Platinum can rip DVD to digital formats like MP4, H.264, AVI, WMV, MOV etc., backup DVD to a single MPEG2 file with no video/audio qulity sacrifice on Windows (10) PC/Mac. So that you can stream DVD movie to iPhone/iPad/TV with Air Playit perfectly.
Related Article
Free download Iggy Azalea Team 2016 new song MP3 MP4 music video HD and her new album Digital Distortion from YouTube, etc with best free online music video downloader for offline playback on iPhone iPad Android.
Do you want to watch AVI FLV WMV video on your iPad/iPad2 without conversion? Air Playit, free App for streaming video to iPad/iPad2, offers you an effortless solution to watch AVI FLV WMV video on iPad. You don't have to go through lengthy process to convert these videos to iPad friendly format beforehand.
What could we do if we have a large collection of music on Mac OS X Leopard/Snow Leopard/Lion and don't want to load our iPhone iPad up with all the music? Is it possible to remote access our latest updated music library wirelessly when we're at the airport and the iTunes's not available? Air Playit will give you answers.