Air Playit: The Most Popular Video Streaming App for iPhone iPad
More and more streaming solutions are becoming available from the App Store. With them, you can stream videos or music in various formats without needing to convert or store them on iPhone iPad. Today I wanted to highlight one called Air Playit which may be new to the market, but it is undoubtedly among the most comprehensive and efficient desktop-to-mobile media streaming solutions around. Official survey data presents that almost 2 million people have downloaded Air Playit, making it become the most popular video streaming app for iPhone iPad.
Air Playit can stream videos in almost any format to iPhone, iPad and iPod touch. If the videos are not in format supported by iPhone or iPad, it will convert them on the fly. You don't need to wait until the entire video is converted, just watch it immediately and it take up no space on your devices at all.
It in fact comprises two components -- server software that must be installed on your Mac or PC and an app client for either your iPhone or iPad. The server software can be used to manage your video collection and choose which individual files and folders should be made available. PIN protection can be used to prevent unauthorized access, or to prevent the kids from watching videos that are not suitable. Then the app client will interact with the server and play the streaming videos over the air.
Using this streaming video audio app, you need to:
1. Download and install Air Playit server on PC/Mac.
2. Download and install iPhone iPad app client for streaming video audio music.
Step one: Launch Air Playit server and click "Add Folder" to add video audio music files to "Shared Folder".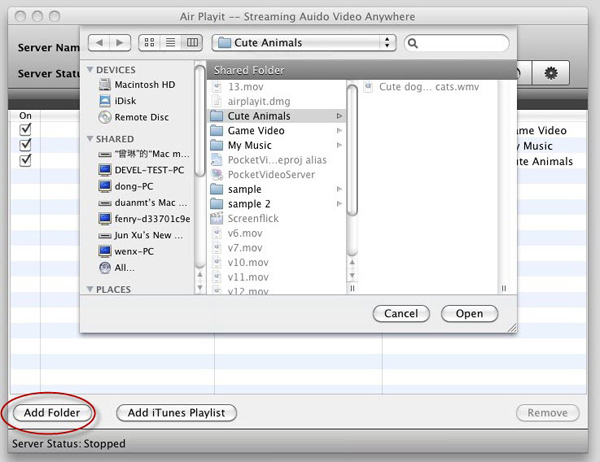 Tips: You need to add files under the "Shared Folder" on Windows OS, and under "Sharing Folder" on Mac OS.
Step Two: Run app client on iPhone or iPad, and add the server. Air Playit will automatically discover the server via Bonjour service. Or you can add remote server by specifying IP address.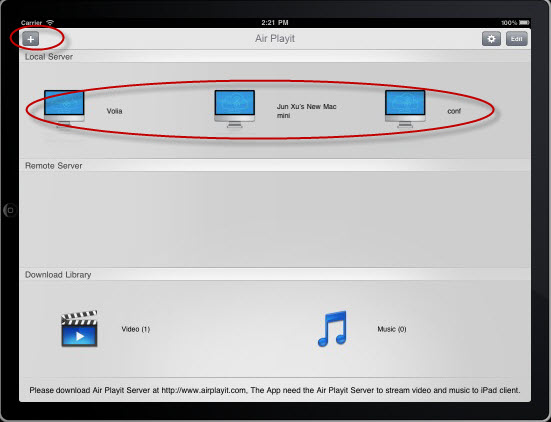 Step Three: Choose one file and click "Play" button. You can enjoy any video or music instantly without format converting or iTunes syncing.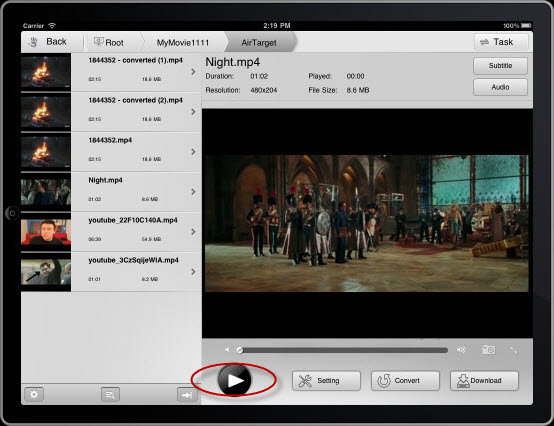 Air Playit for Android Platform is available now, click here to download.
Related Article
This blog is going to list three video streaming apps for iPad and iPhone for you to select the one most suitable one for streaming video to iPad/iPhone.
It is a trouble to convert the video and movie before transmitting them to Android phone. Thus, Android phone user are taking much effort in finding a new way of playing video and movie, now, Air Playit just caters to your needs.
Play M2TS/MTS on Android? Air Playit helps you streaming M2TS/MTS to Android without video format conversion. Free download the Android App. Share your HD Camcorder recorded M2TS/MTS video with friends on Android.