New Way to Watch Blu-ray Movie on iPhone iPad with Air Playit
The Blu-ray movies with the crisp image quality are winning huge welcome among all video and movie lovers. Watching a Blu-ray movie on the computer is such a pleasant visual and audio enjoyment that it is common for people to seek a way to watch Blu-ray movie on iPhone and iPad.
Now here comes two problems-format incompatibility and limited storage space. Since iPhone and iPad only support playing H.264 or MPEG 4 video directly, the HD movie cannot be synced to the device. The conventional way that people could figure out is to rip the Blu-ray movie to an iDevice supported format using third-party Blu-ray movie ripping software and then sync the movie to iPhone or iPad. However, spending a long time in finishing the conversion is not the only trouble; the large movie files can easily easily run out of the precious storage space in the device.
Thankfully, there is a new way to watch Blu-ray movie on iPhone and iPad. Streaming Blu-ray movie to iPhone iPad with Air Playit is a good solution. Air Playit is free Blu-ray video streaming software for iPhone iPad that completely eliminates the trouble to sync the Blu-ray movie via iTunes and store the movie on the device. Air Playit is able to live convert the movie when streaming Blu-ray movie to iPhone iPad via WiFi, 3G/4G network for users to watch it on the go. The movie is stored on the PC/Mac and occupies no space in the device, thus users no longer need to worry about the limited storage space.
Step-to-step Guide of Streaming Blu-ray Movie to iPhone iPad
Before streaming the Blu-ray movie to iPhone iPad, it is necessary to decrypt the Blu-ray to a video file. WinX Blu-ray Decrypter is ideal software to do this. Below is the three-step guide to decrypt the Blu-ray.
*Run WinX Blu-ray Decrypter, insert a Blu-ray Disc to Blu-ray disc driver, and click "Open disc" button to load the disc.
*Click "Browse" button to select an output folder to save output video file.
*Hit the "Run" button to start the process.
After decrypting the Blu-ray, you have the Blu-ray movie saved as M2TS file on your computer hard drive. Now, all you need to do is streaming Blu-ray movie to iPhone iPad with Air Playit. Please download Air Playit server to and install PC/Mac and client app to iPhone or iPad and then follow the three steps.
Step One: Run the server and add video files to share. Click "Shared folders", and then click "Add Folder" to add the M2TS video that you want to stream to your iOS device.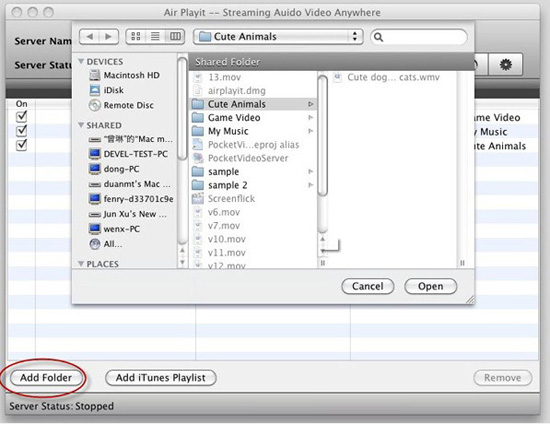 Step Two: Run the Air Playit client on your iPhone iPad. With WiFi, 3G/4G network connected, the client app will automatically connect to the server by Bonjour Service.
Tip: If it fails, you can input the server address which is shown on the main interface Air Playit server manually or close the fire wall to have a try.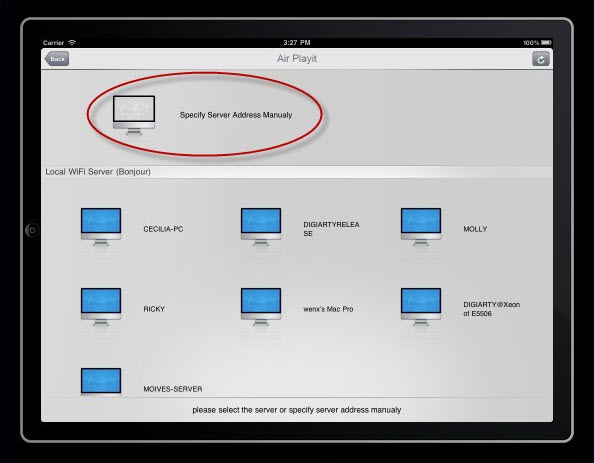 Step Three: Tab the folder under the server, select the folder in which your movie is saved, and then click the "Play" button. That is all for the steps. Although M2TS file is not iOS device-friendly, Air Playit is does a good job in converting M2TS to a proper video format that your device support, just watch Blu-ray movie on iPhone iPad without waiting for conversion.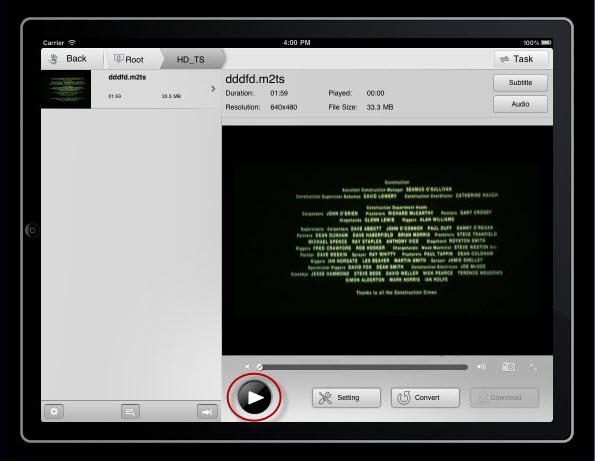 Related Article
Air Playit can stream videos in almost any format to iPhone, iPad and iPod touch. If the videos are not in format supported by iPhone or iPad, it will convert them on the fly.
Blu-ray is so nice that many people want to put it on their iPhone iPad or iPod Touch instead of saving it only in computer. With the help of Air Playit, now you can free play Blu-ray on iPhone iPad.
Air Playit is a free video audio streaming app for iPhone iPad that is capable of streaming any video to iPhone iPad via 3G, 4G and WiFi networks.